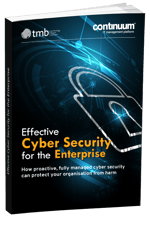 Overwhelmed by security demands?
Find out how managed services can help
In this free guide, you'll discover:
Why a managed services provider is a good choice for cyber security.
How TMB's managed services can work with your existing IT team.
The importance of having a robust mobile device management policy.
What a network operation centre is and how it can reduce support tickets.
How fully managed backup and disaster recovery can protect data.
Why cyber security actually matters.
If you would like to discuss your IT requirements with TMB, please use our contact page or call us on 0333 900 9050.